Sewage Backup Cleanup Jefferson County
The sewage backup Jefferson County crew with 911 Restoration Jefferson County is here to let you know that we have your back if you're experiencing difficulties.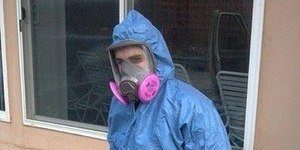 We know that homeowners need to be taken care of fast, so we are proud to say that we are available 24/7/365 in order to bring you peace of mind whenever you may need it.
Furthermore, the longer sewage is allowed to be in your home the more damage it may cause, therefore, when you call us we will be at your day within 45 minutes with same-day service.
The quicker you enter your fresh start, the sooner you will be able to live comfortably in your home. We are here to support you.
Everything is going to get better, and your home will be invigorated with a sense of renewal after we leave. Call us for the best care in the business, it is our guarantee.
The Truth about Raw Sewage Restorations
Sewage water damage is classified as category 3 water. That is, it harmful to human health due to the high bacterial load that the sewage contains. It usually occurs as back up from lines that may come out of your toilet, or other piping.
The most common causes are
Flooding, as the water enters the home it may add stress onto exposed pipes, thus changing the pressure differences in way that causes pipes to back up and push water into the home instead of out.
Clogged sewer lines may occur because of flushing of wipes or other paper products. Additionally, it also frequently happens when grease is disposed of improperly, such as being rinsed down the drain.
Tree roots will dig deep into the earth in their search for moisture—which running pipes produce. They are powerful enough to penetrate deep into piping, and cause sewage to fill up your lawn.
Collapsed piping is most susceptible to older homies with clay piping or rusting lines. It may be expensive to replace them before an accident, but it will be cheaper than waiting.
Don't let your home suffer from the effects of a black water invasion without getting assistance from the best in the industry. Contact our sewage backup cleanup Jefferson County team with 911 Restoration Jefferson County and we will take care of everything for you today!
Trust Us to Handle Remediation Efforts Professionally
Our sewage backup Jefferson County team is licensed, bonded, insured, and IICRC certified. You can count on us get your home to proper living conditions, and to get your mind on track for tranquility.
We hold an applied microbial remediation certificate that guarantees homeowners that your living space will be sanitary and better than new after a sewage backup incident.
Whether you need upholstery sanitation, tile repair, or wood floor restoration—we are trained to handle it. Our qualified technicians will show up to your door with ahazmat suits, rebreathers, wet vacuums, pumps, and blowers.
Sewage cleanup is a two part job where the first part is removing the harmful water in a manner that is safe for the home and the environment.
Once the water is removed, then the home needs to be sanitized. Microbes are responsible for odor and stains, so getting them out is a breeze because we use surface-penetrating chemicals to get your home smelling and looking fresh.
The second part of the restoration effort is basic water restoration, and we will make sure to get all the water out.
It is our fresh start guarantee that you will have peace of mind for years to come after we are done handling your worries, so call our sewage backup cleanup Jefferson County team with 911 Restoration Jefferson County for help today!