Water Damage High Ridge
The water damage experts in High Ridge with 911 Restoration Jefferson County aims to make things better than they ever were. We remove remnants of any accident, so that you can never tell that they happened. That is the definition of a fresh start, and it is the signal of a new beginning.
We are:
Available 24/7/365
Latest drying technology
Respond within 45 minutes
Always put the customer first
Same-day service
We recommend that as soon as you notice a sign of damage that you call us for a free water damage estimate because more often the not the issue can be remediated before a problem like the one describe above can occur.
Pick up the phone and call our water damage experts in High Ridge with 911 Restoration Jefferson county for a tomorrow that is free of damage, mold, odors, and disaster today!
Storm Repair and Damage Restoration
911 Restoration excels at bringing High Ridge homeowners peace of mind from start to finish. The long lasting effects of water damage can sometimes be more troublesome than the initial accidents.
Here are some critical points to remember about water restorations:
We show up to the site as fast as possible with the expertise required of making things better than it ever was.
For example, in the event of heavy winds and downpour, water can find its way into the living space.
It will fill up every nook and cranny it can, which if not dealt with quickly will give rise to a mold infestation.
These places include crawl spaces, subfloors, attics, roofs, and in between walls.
Finding all this hidden damage requires more than keen eyes, as it demands sophisticated equipment to find.
We whip out the infrared cameras that allows us to track moisture, and once we find the hidden humidity we get it out.
Furthermore, it also allows us to put our time into efforts that are going to be longer lasting.
When it comes to the use of a sterilizing compound, it would not make sense to put it in areas where the water did not occur in.
Every step we take is calculated, which means it saves you time and money. For a team that knows what they are doing call the water damage High Ridge team at 911 Restoration.
Water Damage Customers Gets Fast Restorations
Most people associate water damage with a grandiose occurrence of flood or pipe burst, which also counts as an accident, but sometimes they are smaller than that.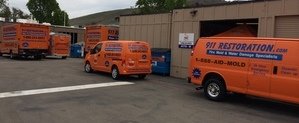 A client of ours learned that the hard way when her bathtub cracked and it led to water infiltrating the crawlspace beneath her restroom.
The small little leak compounded enough that it led to crumbling drywall and a mold infestation. All though the damage spread, it was more than fixable. We arrived and quickly began doing crawlspace cleanup.
The technicians we employ are IICRC certified, so it qualifies them as a one stop shop for all things restoration.
We decontaminated all the mold and bacteria. Then we replaced all the old material with brand new things, so it there was no sign of damage ever occurring.
If you are in need of a quick recovery, then contact our water damage High Ridge team with 911 Restoration Jefferson County and we will work for you better than anyone to get your property back in shape in short order today!