Sanitization Services in Jefferson County
Jefferson County is currently facing a challenge as the coronavirus spreads through our community. In order to face this pandemic, everyone needs to do their part. You can take proactive steps to protect your neighbors by practicing self-isolation. You may also want to focus on keeping your property sanitized. 911 Restoration of Jefferson County offers professional sanitization services for you.
You can contact us right now to set up a schedule for cleaning and sanitizing your commercial or residential property. Our crews are highly trained and ready to deep clean your office or retail space. We can work around your schedule if you are an essential business remaining open during this pandemic. 911 Restoration of Jefferson County can also provide disinfection solutions for businesses that closed temporarily. 
Getting held from sanitization specialists can help you get back your peace of mind during this pandemic. 911 Restoration of Jefferson County uses the most up-to-date cleaning recommendations issued by the CDC and the EPA. We focus on providing you with fast cleanup and sanitization when you need help the most.
As a locally owned and operated company, 911 Restoration of Jefferson County can reach your property within an hour. Contact us 24/7/365 at 636-274-6019 to get the help you need.
Get Fast Disinfection Solutions in Jefferson County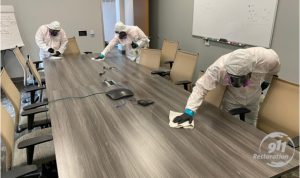 The coronavirus pandemic is challenging to handle for a number of reasons. Individuals may spread the virus before they become symptomatic, for example. These individuals can even leave the virus behind on surfaces in your business or home, where it can infect other people. You can clean and sanitize your property in this situation with 911 Restoration of Jefferson County. Call us at 636-274-6019 and please allow us to offer you a free visual inspection.

We are fully prepared to handle all of your needs. You can reach out to us to get:
Service within 45 minutes of an emergency call

Help from experienced sanitization specialists

Comprehensive office deep cleaning solutions

Assistance with sanitizing any retail space
Our techs can provide you with disinfection solutions for your home or your business. We know that many business owners are facing new challenges as the coronavirus continues to spread. You may be asked to temporarily shut your doors to slow down the spread of the virus. You may also be asked to remain open as an essential service. We can help with professional sanitization and disinfection in either situation. Set up covid 19 cleaning services in Jefferson County by contacting us right now, and get help in under an hour. Call us at 636-274-6019 and see how we can help you.