Water Damage Hillsboro
If you come home to water flooding your washroom, you can call the water damage Hillsboro technicians at 911 Restoration Jefferson County and we will be at your household within 45 minutes ready to help in any way we can.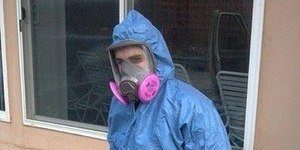 We want you to be able to call us the moment you need assistance, even if it is the middle of the night, so we keep our water damage Hillsboro office available 24/7/365.
Our water damage Hillsboro flood removal unit is trained to mitigate all causes of water damage, so you when you hire us you can be sure that you are getting licensed, bonded and insured professionals.
If one of your major water based appliances is constantly leaking than you most likely have an issue with a supply hose issue.
Call our water damage Hillsboro team with 911 Restoration Jefferson County and we will begin the renovation process by conducting a free home inspection as soon as we arrive on the scene today!

Preventing Water Damage From Your Major Appliances
If the problem is with your washing machine and you notice that water seeps out occurs during the wash cycle, than you are probably dealing with an internal leak.
The water damage Hillsboro plumbing pros want homeowners to be aware of the most effective ways to prevent a leak or a flood due to a faulty appliance:
Replace the washing machine intake hose every 5 years

Check your sewer line after a storm, before running your washing machine

Don't overload your washing machine

Have your machine professionally installed to avoid water line pinches and drainage issues

Shut off the intake valve behind your machine at the first sign of trouble

If you can't access the intake valve, know how to shut off your home's water main

You will know if your appliance is experiencing a drainage issue if you see water on the floor during the spin cycle, or right after the machine turns off.
Our water damage Hillsboro flood mitigation team is IICRC certified to assist you with all your appliance issues, so call us today!
We Will Help You Figure Out If Your Water Damage Is Covered
Our water damage Hillsboro emergency repair staff wants you to feel comfortable talking to us about all aspects of the home restoration process, including helping you understand your insurance policy.

The average homeowner's insurance policy will cover flooding caused by large appliance malfunctions, but it usually won't cover the costs of replacing the machine itself.
We will file your claim for you, submitting all the necessary information needed to get you the maximum coverage your policy allows.
Getting you the financial aid you deserve is as important for us as it is for you, and we will do everything we can to ensure that you get it.
Call our water damage Hillsboro disaster elimination professionals with 911 Restoration Jefferson County and you can be sure that we will get you the fresh start you deserve today!