Water Damage House Springs
Our water damage House Springs unit at 911 Restoration Jefferson County wants to support the community if they are experiencing water damage in any way they can.
Whether a flood, pipe burst, or any other form of water damage occurs to you. Count us to make right the things that have gone wrong by providing you with the following benefits:
Available 24/7/365
Total dedication to professionalism
Latest drying technology
Respond within 45-minutes
Always put the customer first
Same day service
If you have questions, then we will have the answers to everything you are facing. No one should go through restoration alone, so trust our water damage House Springs experts to be there for you with a new beginning.
Your peace of mind is on the line, so we do everything in our power to see you through to better times.
If you are in need of a fresh start and a long lasting solution, then give our water damage House Springs professionals a call today and we will be at your home as soon as possible to begin restorative procedures. Call us at 636-274-6019 and please allow us to offer you a free visual inspection.
How to Avoid a Piping Accident
Although our business revolves around restoration, we never want to see you distressed. Therefore, at the cost of some business, we would like to impart to you some wisdom on how to avoid a pipe burst if you were to experience one.
Here are some key points to remember:
The first thing our water damage House Springs team would like to suggest is that you become familiar with the plumbing of your home.
There are a lot of times that we respond to a call as a result of someone drilling into a wall only to hit a pipe.
Thus, by doing this you know where any potential leaks may be coming from.
The next tip is to be mindful of any cold fronts that may come about in the winter.
During these freezing times the water in your pipes will crystallize.
Once this occurs the blockage will expand and the added pressures will cause a rupture.
Either provide a heat lamp to pipes, or add insulation.
Additionally, it helps to give an added aid by keeping the ambient temperature in your home to above freezing.
If a burst does occur, then locate your water shut-off valve. Use it to cut the water to your home, and then call our water damage House Springs techs immediately. Call us at 636-274-6019 and learn how we can help
From Flood Repair to Carpet Cleaning
Our water damage House Springs staff needs to be prepared for whatever may come your way. Our water damage House Springs team is IICRC certified in order to bring you exceptional service that is fast and efficient.
For example, the care we provided a client of ours after she experienced a pipe burst over her kitchen. It flooded her stove, counters, cabinets, and it swished out into her living room.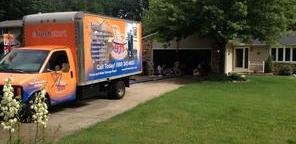 When we arrived we immediately set some fans and blowers out. It takes as little as 24 hours for mold to start forming a colony. This is where extra ventilation comes in handy. By using HEPA filters to bring in clean air, it decreases the opportunities for mold spores to implant themselves on the surrounding environment.
The carpet took the brunt of the damage, believe it or not. The kitchen was fairly easy to repair, and she had insurance on her stove. So, we just moved it out, mopped and vacuumed out the water. Call us at 636-274-6019 and allow us to provide you a free visual inspection.
Then we treated the area with antimicrobial spray. The carpet, however, needed to be removed. It had a spongy bottom that was made of all organic material, so when it gets wet it will give rise to nasty odors and mold. It was easy for us to take out, and even easier to put back in.
If you are need of the same level of expertise from a licensed, bonded, and insured restoration company that cares about you, call our water damage House Springs team at 911 Restoration Jefferson County today!